Our Malak Youth Winter Camp
When:
7 years ago 7:00pm to 7 years ago 4:00pm
Cost: $150
Host:

Malak Youth Group
Church Host:

Archangel Michael & St Bishoy Church
Details:
IT'S ON IT'S WAY- BUT WE NEED YOU TO MAKE IT HAPPEN
> ** SO HURRRRRYYYYYY AND CONFIRM UR SPOT NOW ** <
IF YOU LOVED OUR SUMMER CAMP IN FEB- THIS WILL BE A LOT COOLER/ LOTS MORE FUN / SIMPLY MORE AWESOME!!!
OUR MALAK YOUTH WINTER CAMP
LET THE COUNTDOWN BEGIN
SPOTS ARE LIMITED! REGISTER BELOW TODAY!
~Giant Swing
~High Ropes
~Basketball Court
~Volleyball Court
AND MUCH MORE!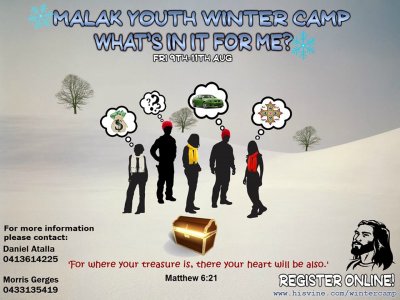 Registration Form - Step 1 of 2
Please login to register for this event.
Login here