COYA Conference
When:
7 years ago 7:00am to 7 years ago 4:00pm
Cost: $170
Host:

COYA Sydney
Details:
Theme: "Break Free" - "Stand fast therefore in the liberty by which Christ has made us free, and do not be entangled again with a yoke of bondage." (Galatians 5:1).
Great activities to do such as High Ropes, Giant Swing and Cart Racing!
Cost: $170 for students and $190 for Working Youth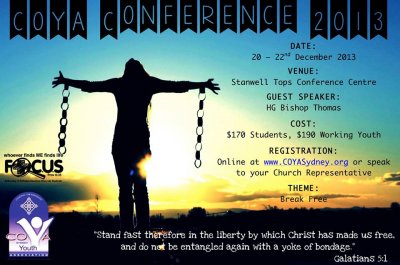 Registration Form - Step 1 of 2
Please login to register for this event.
Login here