Age Of Empires: Summer Camp Edition
When:
6 years ago 6:00pm to 6 years ago 5:00pm
Location:
Lutanda Toukley
Cost: $140
Host:

Malak Youth Group
Church Host:

Archangel Michael & St Bishoy Church
Details:
Summer is JUST around the corner- so is our Malak Youth camp.
Bring on the Fun
Bring on the Heat
Bring on the water
Bring on the Sleepless nights
Bring on the physical challenges
Bring on the Food
Bring on an Awesome time with everyone.
Where there is God there is fun. Guaranteed.
All U NEED to do & NOW is REGISTER ONLINE AND PAY ONLINE how easy!( Don't pay Amo or Taunt or Bill/Bish or Dan- its ALL ONLINE.
$140 pp
(Cost includes an unforgettable spiritual experience which will send you back home as KING)
Will you be ready to BRING it?
Ps if u have a comment or a question please give Bish Ellias a buzz.
C u @ camp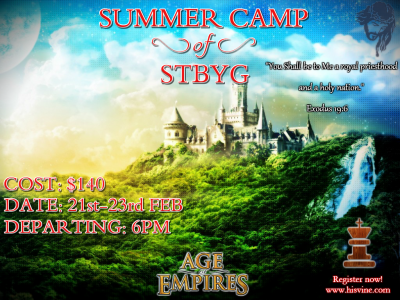 Registration Form - Step 1 of 2
Registration is now closed.