2014 Annual Spiritual Youth Retreat
When:
6 years ago 8:00pm to 6 years ago 5:00pm
Location:
Anglesea Recreation Camp, 1535 Great Ocean Rd, Anglesea, VIC
Cost: $150
Church Host:

St John & St Verena Church
Details:
Theme: Christ - Incomprehensible yet knowable, Indescribable yet personal
Its that time of the year again!
We have gained a reputation of having the most Spiritual Retreat all year!! That's right come for that annual spiritual charge with yet another great theme and more guest speakers!
Register now to confirm your spot!
"Being knit together in love, and attaining to all riches of the full assurance of understanding, to the knwoledge of the mystery of God, both the Father and of Christ" - Colossians 2:2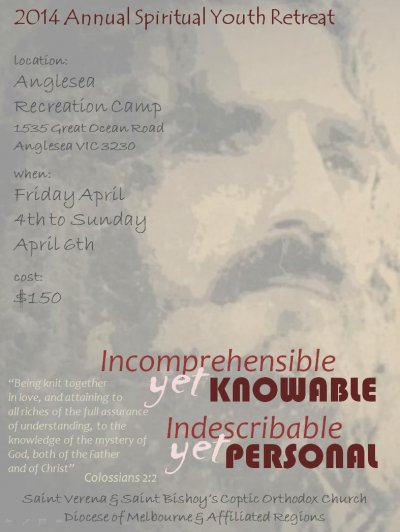 Registration Form - Step 1 of 2
Please login to register for this event.
Login here