St Mary's YCF Retreat - Family Matters
When:
6 years ago 7:00pm to 6 years ago 3:00pm
Location:
Stanwell Tops Conference Centre
Cost: $160
Host:

St Mary & St Mina Church
Details:
FAMILY MATTERS
Family | Relationships | Service
Friday, Nov 21
7:00- 7:30 PM: Registration
8:30 PM: Introduction
9:00 PM: Free Time/Family Activities
9.30 PM: Mocktail & Icebreakers
Saturday, Nov 22
8:00 AM: Breakfast
9:00 AM: Childcare drop off
9:30-11:30 AM: WORKSHOP #1: RELATIONSHIPS with Saher + Maria Yousef – Saher and Maria will be focusing this discussion on our relationships with our spouses, with advice on how to improve communication, intimacy, and learn more about gender differences, roles, and responsibilities.
12:00 PM: Lunch
3.00 PM: Afternoon Tea

3:15 PM: Childcare drop off
3.30 – 5:30 PM: WORKSHOP #2: FAMILY w/ Dr. Margaret Tadrous – Margaret will be facilitating our discussion and provide us with strategies on balancing life between family, friends, extended family, work and church. Get some tips from other families and couples on managing time and solving common issues that may come up within the family unit. Morning tea will be included during our small group discussions.
5.30 PM: Children's Dinner
6:30 PM: Adults only Formal Dinner
8.00 PM: Family Olympics
9.30 PM: Vespers
10.00pm: Adult social time with Abouna
Sunday, Nov 23
7:00 AM: Liturgy
10:30 AM: Brunch
12:00 PM: WORKSHOP #3 - SERVICE w/ Fiby Henein – Fiby will be facilitating this discussion on service, including how to balance serving your church and serving your family, aligning goals with your spouse, types of service you can do, and how to avoid spiritually "burning out" in your service to Christ.
2:00 PM: Pack-Up and Check Out
2:30 PM: Afternoon tea
3:00 PM: Departure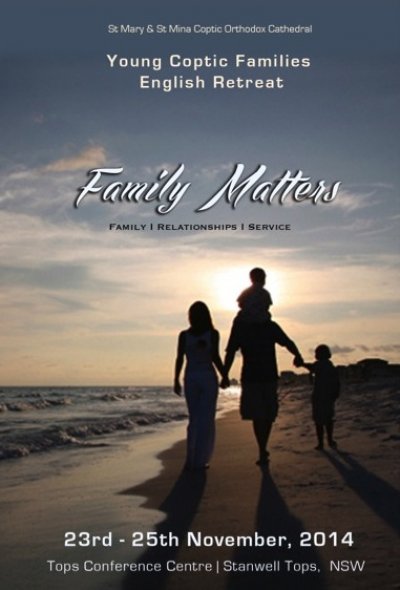 Registration Form - Step 1 of 2
Please login to register for this event.
Login here