Family Weekend Away with HG Bishop Paula
When:
6 years ago 6:00pm to 6 years ago 5:00pm
Location:
Wollongong Surf Leisure Resort
Speaker:
Cost: $575
Host:

YCF Your Coptic Family
Details:
Back by popular demand!
YCF's Second Family Weekend away with HG Bishop Paula.
WHO SHOULD COME:
Open for newly married couples and families with children.
Learn that the more we communicate with God the more God communicates with us.
How to know that our decisions are according to God's will.
How to ask and get the answers to our prayers.
How to encourage each family member to be more prayerful.
To encourage the purity of thought and action of the family.
How to be content with the blessings God has given - without comparison.
THEME:
Houses of prayer, houses of purity, houses of blessing.
INCLUSIONS:
Accommodation in a relaxed setting.
All Meals.
Free childcare and activities for children during all sessions and talks.
Informative sessions and talks with HG Bishop Paula and other keynote speakers
For all enquiries, please contact Val Hanna via email vthanna@gmail.com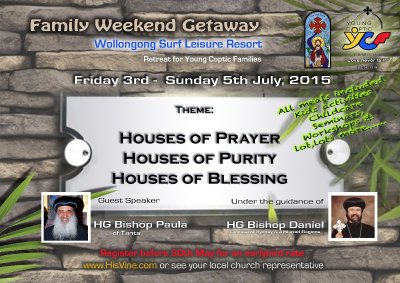 Registration Form - Step 1 of 2
Please login to register for this event.
Login here