Black Tie Stand Up Comedy Night
When:
Sunday 2nd August, 2015
Location:
The Westella Renaissance Lidcombe, New South Wales 2141
Cost: $70
Host:

COYA Sydney
Details:
Coya Sydney in Association with Coptic Orphans
Bring you a Black Tie Event with some Stand Up Humour
Bring out your tux/suit/dress/easter clothes, enjoy a three course dinner, good company and a night full of laughs all for a good cause.
We have 6 stand up performances during the night that will keep you in stitches.
Tickets are $70
They will be issued to your church reps
Spots are limited so grab them fast
All the proceeds will go to Coptic Orphans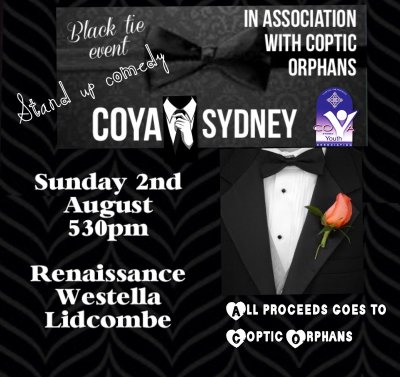 Purchase Ticket - Step 1 of 2
Registration is now closed.