"X" MARKS THE SPOT!
When:
5 years ago 4:00pm to 5 years ago 4:00pm
Location:
Lutanda, Mount Victoria
Cost: $140
Host:

Malak Youth Group
Church Host:

Archangel Michael & St Bishoy Church
Details:
"I will give you the treasures of darkness and hidden riches of secret places..." Isaiah 45:3
Treasures? Hidden Riches? Secret Places?
Where must I go to find the traces?
Mount Victoria will solve the plot,
Follow the map to "X" MARKS THE SPOT!
The journey will only take three days,
Join the adventure there'll be no delays.
31st July to 2nd August 20-15,
Includes a bed and food and all in between!
$140-$160 is all you'll have to pay,
SBYG Winter Camp is coming your way!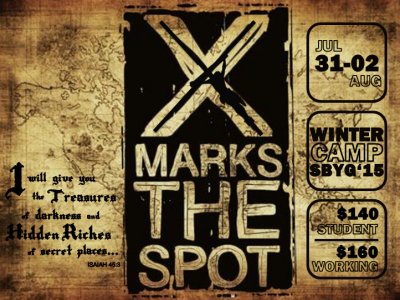 Registration Form - Step 1 of 2
Please login to register for this event.
Login here