Winter Wonderland Fundraising Dinner
When:
Sunday 30th August, 2015
Location:
The Grand Royale (51-61 South St, Granville, New South Wales, Australia 2142)
Cost: $50
Details:
The weather outside is frightful,
but we've planned an evening most delightful!
The All Saints Project 23 Team
Warmly invite you to share in their excitement
of their Winter Wonderland Fundraiser!
Let the warmth of friendship
take the chill from the air,
and the spirit of the season
make winter easier to bear.
Please join us on Sunday the 30th of August to help raise funds for our Christmas Service Trip (ASP23) to the impoverished villages of Sudan where all money raised will go toward their clothing, food, water and Christmas Hampers!
Help us... Help them!
Winter Wonderland (white/silver/blue) Formal
3 course dinner
Sunday 30th August
The Grand Royale (51-61 South St, Granville, New South Wales, Australia 2142)
6pm-11pm
Help in saving Wau, South Sudan
www.gofundme.com/sudantrip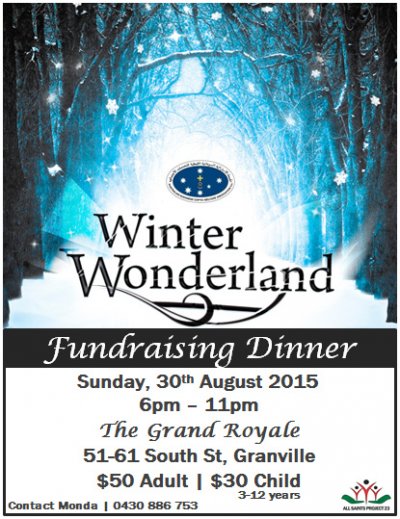 Purchase Ticket - Step 1 of 2