COYA QLD CAMP
When:
5 years ago 6:00am to 5 years ago 3:00pm
Location:
New Undisclosed Location
Speaker:
Cost: $180
Host:

COYA Queensland
Details:
It's that time of year again!!!
HIS way is the HIGHway
Our annual QLD youth camp is back! Bigger and better!!!!
This year we have a guest speaker from Melbourne - Fr. Abanoub Attalla.
We have 2 special guest appearances by HG Bishop Daniel and HG Bishop Suriel! (Come along and book in some one on time with the bishops. Very rare opportunity!)
We have an awesome spiritually reviving topic, along with an energtic program filled with new fun ideas and activities!
Come along, bring a friend and take part in some spiritual rejuvination and fun! DON'T MISS OUT!
SPOILER ALERT!!!!
---- WE HAVE OUR OWN COOKS BACK IN THE KITCHEN!!!! -----
TOPIC:
HIS way is the HIGHway
DATE:
Saturday 3rd - Monday 5th October 2015
(Labour day long weekend)
REGISTRATION COST:
Early Bird registration and payment $150 (Before 6th Sept)
Late Registration and payment $180 (After 6th sept until 13th Sept)
Installment paymet plan available via your church reps
TRANSPORT:
Buses leaving from St. Mary & St. Joseph's Church

Buses leaving from St. Mina & St. Anthony's Church
COYAQ Church Reps:
Virgin Mary & St. Joseph's Church: Mark Hanna

St. Mina & St. Anthony's Church: Chris Ibraheem, Tina Ibraheem, Amanda Nematalla

St. Mark & St .George's Church: Michael Sidhom

St. Mary & St. Joseph's Church: Joshua Ibrahim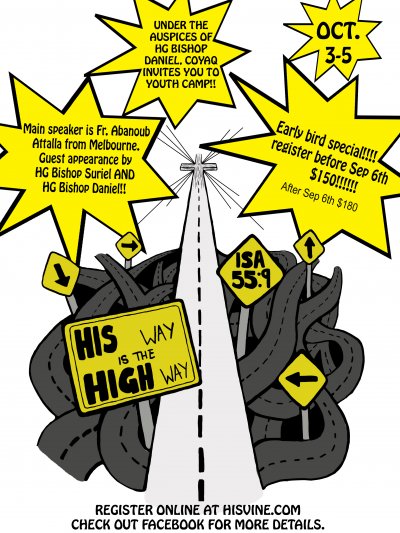 Registration Form - Step 1 of 2
Please login to register for this event.
Login here