Focus Camp
When:
4 years ago 11:00am to 4 years ago 2:00pm
Location:
1 Jamieson St Sydney Olympic Park
Cost: $115
Host:

FOCUS
Details:
With the Grace of God and the prayers of HG Bishop Daniel we are pleased to announce the Focus Winter camp
The camp will focus on you.
Theme: Staying spiritually, physically and academically fit.
Camp will start at 11am at The Lodge at Sydney Olympic Park
Address: 1 Jamieson St Sydney Olympic Park
What to expect
Spiritual talks from our beloved fathers
Fr Jacob Magdy
Fr Alexander Aziz
Fr Paul Fanous
Fr Dan Fanous
Fr Matthew Attia
Fr Mark Basily
Very healthy food and a personal trainer who will run fitness session on a daily basis.
Bus locations
St Anthony & St Paul's Church (Guildford)
St Mark's Church (Arncliffe)
Archangel Michael's Church (Mt Druitt)
Cost
- Full time stay ($115)
- Monday night to Tuesday afternoon ($60)
- Monday night to Tuesday evening ($65)
- Tuesday night to Wednesday afternoon ($60)
- All Day Monday ($40)
- All Day Tuesday ($40)
- All Day Wednesday, till lunch ($40)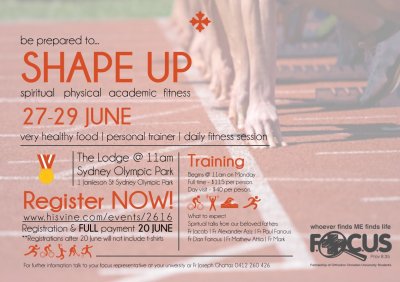 Registration Form - Step 1 of 2
Please login to register for this event.
Login here