COYA QLD Youth Camp 2016
When:
3 years ago 7:00am to 3 years ago 5:00pm
Cost: $200
Host:

COYA Queensland
Details:
FACE the BOOK
Our annual QLD youth camp is back with vegence!
NEW IDEAS! NEW ENTERTAINMENT AND SOME HOW MORE FUN! Bigger and better SPIRITUAL PROGRAM TOO!!!!
This year we have an awesome guest speaker!


We have an awesome spiritual topic that will silence all the critics! It aims at answering all the hard questions and laying out the hidden facts! It will be a spiritually enlightening topic supported by an energtic social program filled with new fun ideas and activities!
Come along, bring a friend and get involed in the spiritual HYPE! DON'T MISS OUT!

If you are still not convinced with the upsized spiritual program and jumbo social program, surely the food will tickle your fancy! YES!!! WE HAVE SELF CATERING!!!!!!!
Early Bird registration and payment $160 (Before 21st Aug)
Late Registration and payment $200 (After 21st Aug until 10th Sept
• Please note all payment must be finalised before the above closing dates to be eligible for early bird price.
• Installment paymet plan available via your church reps
TRANSPORT:
• Buses leaving from St. Mary & St. Joseph's Church
• Buses leaving from St. Mina & St. Anthony's Church
COYAQ Church Reps:
• Virgin Mary & St. Joseph's Church: Angie Farag
• St. Mina & St. Anthony's Church: Chris Ibraheem
• St. Mark & St .George's Church: Michael Sidhom
• St. Mary & St. Joseph's Church: Joshua Ibrahim
• Eritrean Orthodox Church: Dejen and Bana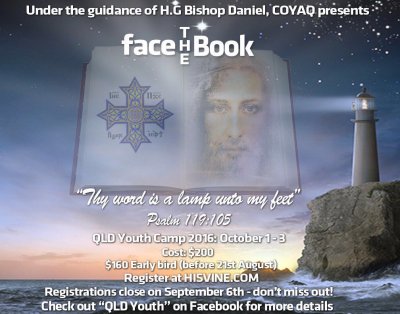 Registration Form - Step 1 of 2
Registration is now closed.