Servants Retreat
When:
4 years ago 6:00pm to 4 years ago 5:00pm
Location:
Wollongong Surf Leisure Resort, 201 Pioneer Rd, Fairy Meadows
Cost: $50
Church Host:

Archangel Michael & St Bishoy Church
Details:
There will be a servants retreat in May. Cost is $50 and if you are coming on the bus it will be $60.
Must register and pay by 2 April 2017
See Dr Manal for more details and to register and pay.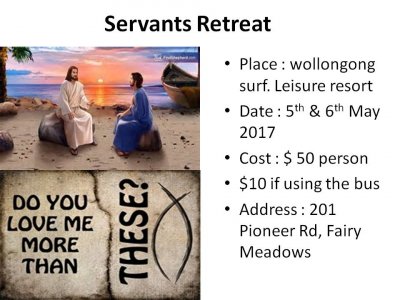 Registration Form - Step 1 of 2
Please login to register for this event.
Login here