COYA QLD Youth Camp 2017
When:
3 years ago 5:00pm to 3 years ago 4:00pm
Location:
Bornhoffen PCYC, Natural Bridge
Speaker:
Cost: $200
Host:

COYA Queensland
Details:
The annual Qld Youth Conference is back!!!
Join us at Bornhoffen PCYC, Natural Bridge for what is to be the GREATEST spiritual and social event of the year!
Amazing topics, amazing speaker, amazing company! Bring a friend and make sure you register before the 23rd of July for the Early Bird Special of $170! after that date registration will cost $200
REGISTRATION CLOSES 4TH OF AUGUST SO GET IN QUICK!
TRANSPORT
Please be aware that this year, participants are required to organize their own transportation to the conference. We strongly recommend a carpool!


For any further questions please speak to your respective representative:
St Mary and St Joseph: Sam Ibrahim (0430 342 848)
St Mary's Eritrean Church: Bana Mebrahtu (0422 352 854)
Virgin Mary Church: David Khalil (0402 130 562) and Nardine Abdou (0424 599 426)
St George Church: Michael Sidhom (0406 594 088)
St Mina and St Anthony: Amanda Nematalla (0421 596 633)
PAYMENT
We kindly request that online payments be used unless absolutely necessary to pay in cash
Please note when deciding measurement for the hoodie, it's like you're laying the hoodie flat on a table and measuring from one end to the other across the chest, mens and ladies sizes are different, but as all hoodies - they are generally a big baggier than tshirts.
Looking forward to see you there!!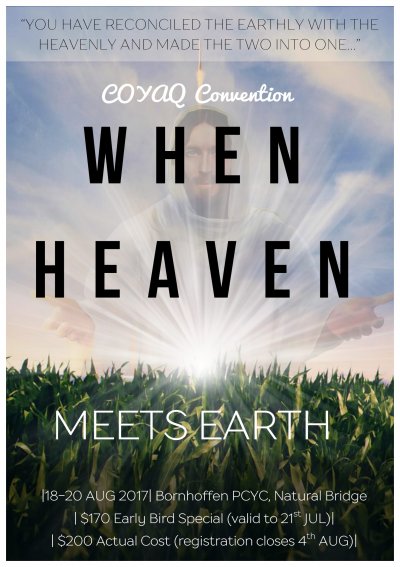 Registration Form - Step 1 of 2
Please login to register for this event.
Login here