SAYG Winter Retreat: Immovable
When:
4 years ago 6:00pm to 4 years ago 5:00pm
Cost: $175
Details:
SAYG!
Back in February, we had one heck of a summer camp! It was probably one of the best camps that SAYG has ever experienced!
But now, as the weather becomes quite chilly, its time for a cozy get together with the awesome youth and our wonderful Saviour!
For the first time, we will be introducing WINTER RETREAT!
It's always a beautiful thing to remain warm both physically and spirtually. This retreat will be a wonderful opportunity for us as youth to both create and maintain a relationship with our beautiful Father. There are numerous activities planned, many oportunites to connect with God and ofcourse limitless amounts of memories to be created!
Full Amount: Paid by 18/7
SAYG guarantees a whole heap of spirtual uplifting moments and many fun and interactive things to do!!
Make sure you invite a friend or two for a beautiful winter retreat with the SAYG Crew!!!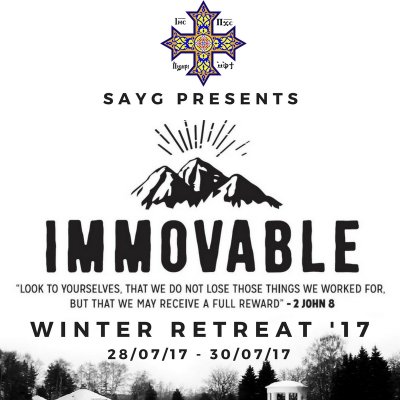 Registration Form - Step 1 of 2
Please login to register for this event.
Login here