Nunnery Visit + Hike @ Blue Mountains
When:
Saturday 19th August, 2017
Coptic Date: 13th Misra, 1733
Feast:
Transfiguration of Christ
On This Day:
The Feast of Transfiguration of Our Lord on Mount Tabor
Cost: $10
Host:

J.O.Y
Details:
Saturday 19th August Joy will be going on an adventure!
9 AM Mass at the Nunnery followed with breakfast
12.30 PM Hike through the blue mountains!
Meet at St Mary and St Verena Monastery
6 Eastview Ave, Leura NSW 2780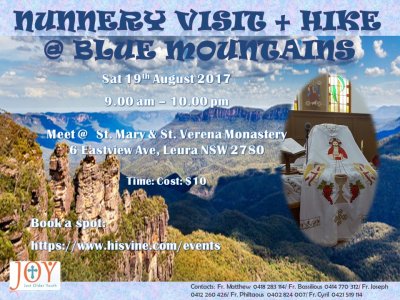 Registration Form - Step 1 of 2
Registration is now closed.