JOY goes to the Monastery
When:
Saturday 14th October, 2017
Cost: $10
Host:

J.O.Y
Details:
Hi Guys!!
Get excited! The event for this October is a Monastery trip!!!
Starting with a Mass in the morning, we will have a fun and spiritual day at the monastery with the monks!
$10 donation is for the monastery, and sleeping over the night before is an option for the males. Please let Father Joseph know if you want to stay Friday night at the monastery.
GET KEEN PPL!
Register NOW!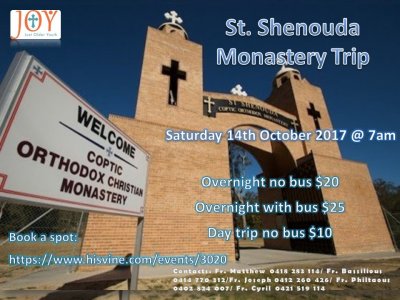 Registration Form - Step 1 of 2
Please login to register for this event.
Login here