JOY GOES TO LUNA PARK!
When:
Saturday 10th March, 2018
Cost: $26
Host:

COYA JOY
Details:
YAY! GET EXCITED!!!
We're off to luna park!!!

you need to register and pay by the 5th of March in order to get this very very special price!
an event not to be missed!!
Other options for payment include:
Pay direct to luna park online $48 | at the door $52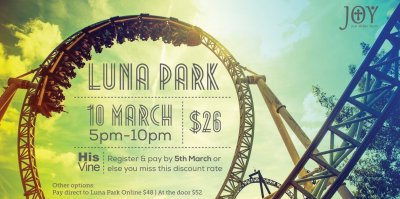 Purchase Ticket - Step 1 of 2