Big Daddy
When:
1 year ago 8:00pm to 1 year ago 2:00pm
Cost: $140
Details:
"My beloved is mine, and I am his" (Solomon 2:16)
What is your understanding of God? How well do you know Him?
Join us from the 27th-29th of April for a retreat that will get us really thinking about our perception of God and the place He has in our lives.
Venue: Lutanda Yarramundi
Cost: $140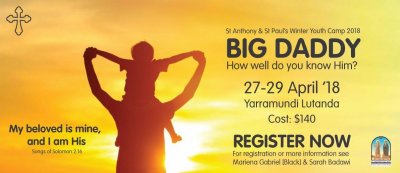 Registration Form - Step 1 of 2
Registration is now closed.