Arise & Conquer 2018 Youth Retreat
When:
2 years ago 6:00pm to 2 years ago 4:00pm
Cost: $150
Details:
SAYG!!!
Winter Retreat 2018 IS HERE!!
After an amazing and fun-filled summer camp, we're back for another opportunity to unite together this winter and create new memories!!!
Winter Retreat will be all about learning the life of discipline!!
By God's Grace, we will learn about how we can ARISE from our laziness and CONQUER our lifestyle and relationship with God!
With amazing talks, youth activities and numerous team competitions, this winter retreat is set to benefit you in many different ways!
It's been a cold winter thus far but this retreat is set to provide that spiritual warmth (and physical warmth with things such as amazing race, campfire and sporting competitions)!!!
So if you're keen to have a kickback and a spiritually uplifting weekend away from all the worlds stress, then SAYG's Arise & Conquer Winter Retreat is the place to be!!
Costs and further details will be updated soon!
But be sure to save the date and invite all your friends for a winter retreat like never before!
HSC graduates and above!
Theme:Discipline
Aspects: Discipline of the Mind, Body & Spirit
Verse:
Do not rejoice over me, my enemy;
When I fall, I will arise;
When I sit in darkness,
The Lord will be a light to me.
(Micah 7:8)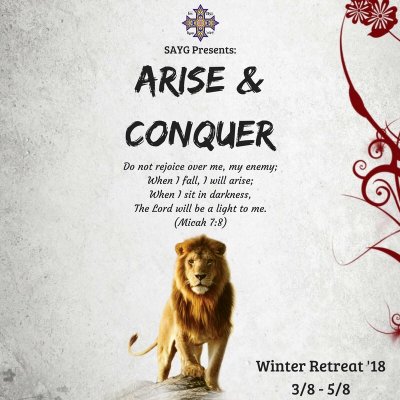 Registration Form - Step 1 of 2
Please login to register for this event.
Login here