Sculpture by the Sea with JOY
When:
Sunday 4th November, 2018
Host:

J.O.Y
Details:
Put on some comfy shoes and come see the magnificent views along the coast of Bondi beach, while sighting the stunning outdoor sculpture exhibition that happens only once a year.

We are meeting outside the Bondi Pavilion to start our 2km coastal walk.
Parking can be a little tricky and expensive around Bondi, so maybe consider catching public transport - arrange for a group of people in your area to catch the train or bus together!

We'll also be grabbing a bit to eat after the walk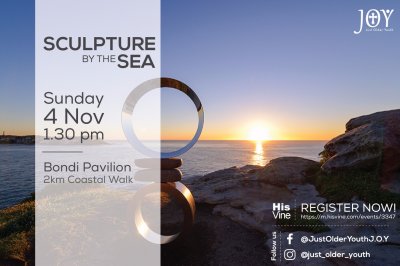 Registration Form
Please login to register for this event.
Login here