SAYG '19 Summer Camp: Chasing the Dream
When:
2 years ago 6:00pm to 2 years ago 3:00pm
Cost: $120
Details:
SAYG!
The moment you've all been waiting for is finally here!!
SUMMER CAMP 2019!
This years topic is all about positivity! We will cover three factors that lead you to the path of success: Vision, Balance & Self-Motivation.
This camp will be filled with the greatest summer type activities (there are plenty of activities that are being organised that have never been seen before at a SAYG camp!). There will be a ton of water bombs, water guns, water fights, it's going to be epic!
This camp, the fathers have requested a new pay system:
Employed: Camp will cost $195 (Including Shirt)
Unemployed: Camp will cost $165 (Including Shirt)
Deadline for FULL payments will be 23/01/2019 and must be done through HisVine.
If you miss the deadline, you may miss out on a spot or will be charged more!
This will depend on your honesty and again, this is coming from Abouna who will be reported to about all processes and progresses involving camp!
His Vine link will come up soon!
So if you're down for a wild summer fun weekend and is interested in knowing how to make your dreams become reality this upcoming year, then this SAYG camp is one NOT TO BE MISSED!
HSC graduates and above for camp!!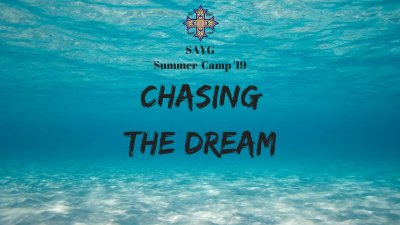 Purchase Ticket - Step 1 of 2