MYG Summer Camp 2019
When:
2 years ago 6:00pm to 2 years ago 2:00pm
Location:
Wollongong Surf Leisure Resort
Cost: $160
Host:

Malak Youth Group
Church Host:

Archangel Michael & St Bishoy Church
Details:
"Do not remember the former things, nor consider the things of old. Behold, I will do a new thing, now it shall spring forth; shall you not know it? I will even make a road in the wilderness and rivers in the desert." (Isaiah 43:18-19)
Leave everything where you are. Don't look back at the past... or even remember the things of old. Let Him do a new thing for you. Let Him create a road for you in the wilderness. Let Him place not only one river, but rivers for you in the desert. All you need to do is take the first step and together, let's BEGIN AGAIN!
"My brethren, do all that is in your power not to fall, for the strong athlete should not fall, but, if you do fall, get up again at once, and continue the contest. Even if you fall a thousand times, because of the withdrawal of God's grace, rise up again at each time, and keep on doing so until the day of your death. For it is written: 'If a righteous man falls seven times,' that is, repeatedly throughout his life, 'seven times shall he rise again' [Proverbs 24:16]." (St John Karpathos)
NOTE: $160 (w/out shirt) or $185 (w/ shirt)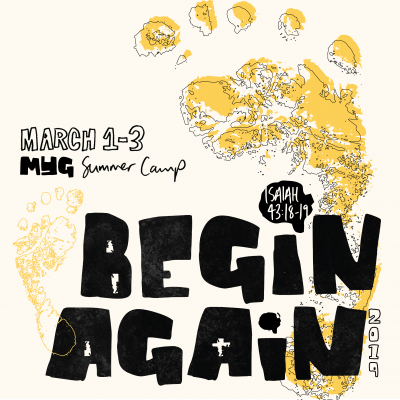 Registration Form - Step 1 of 2
Please login to register for this event.
Login here