Developing Positive Communication Family Camp
When:
Fri 29th Mar 9:00pm to Sun 31st Mar 2:00pm
Location:
201 Pioneer road, Fairy Meadow, Wollongong
Speaker:
Cost: $325
Details:
What makes effective marriage communication? Fr Morris will discuss this
and more. Join us for two days of prayer, workshops and fun for the whole family at Wollongong Surf Leisure Resort between 29-31 March 2019.
PROGRAM:

FRIDAY 29 MARCH:
9pm Arrival & Welcome
10pm Evening prayers
SATURDAY 30 MARCH
8.30am Breakfast
10am Morning prayer
10.30 Know your marriage
12pm Bible study
1.30pm Lunch
Free time
6pm Afternoon prayer
6.30pm Comedy show
7pm Effective communication
8.30pm Dinner
9.30pm Games & Activities
SUNDAY 30 MARCH
8am Liturgy
10.30 Breakfast
11.30 Improving your marriage
1pm Lunch
2pm Free time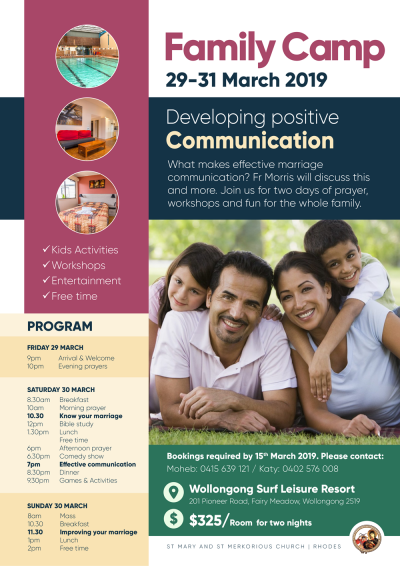 Purchase Ticket - Step 1 of 2