Feteer Day
When:
Monday 7th October, 2019
Location:
Ku-ring-gai Chase Park, Bobbin Head
Church Host:

St Mary & St Cosman & St Demian Church
Details:
Hello everyone,
It's time for another outing!
St. Tobias & St. Sara's family meeting is inviting you all for a gathering on Monday 7th October 2019 to enjoy the traditional delicious FETEER dish!
We'll gather at the "Ku-ring-gai Chase Park at Bobbin Head".
The park has two enterances; the recommended one is the Mount Colah Enterance, as it is closer to the place where we will be gathering and it easier to drive through.
We will be gathering at "The Station" picnic shelter. It is next to the kids play area, and will be at the right-hand side, after the Bobbin Inn and Information Center. (Exact location of the picnic shelter https://maps.app.goo.gl/mgnQwpnVnN2x2hhv8 )
Please make sure you get caps/ hats for the kids and sunscreen lotions, as they will be enjoying there time in the kids play area!
Please get extra mats and chairs with you.
There is an optional activity in the park, Boat Paddling in the Creek. It has its separate fee, if anyone would be interested to enjoy it.
For booking and payement, please contact Feebi 0415449836.
For any queries please contact St. Tobias & St. Sarah family meeting servants.
Hope to see you all there, to spend a blessed enjoyable time together.
Please pray for Service. God bless you all.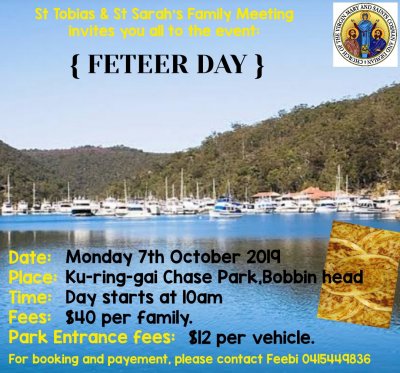 Registration Form
Please login to register for this event.
Login here