New Year's Retreat 2021
When:
2 weeks ago 1:30am to 2 weeks ago 2:00pm
Location:
5-17 Queens Rd Lawson NSW 2783
Cost: $160
Host:

SMCD Youth
Church Host:

St Mary & St Cosman & St Demian Church
Details:
Hello beloved SMCD family!
ITS THAT TIME OF YEAR AGAIN
It's time for the annual SMCD New Years Retreat!!!
Get ready for a New Years filled with fun, food and fellowship.
God willing, we will be praying a liturgy starting on December 31st. We'll then be carpooling to the Kihilla Retreat & Conference Centre (5-17 Queens Rd Lawson NSW 2783) to spend an amazing three days together.
You'll find the details on the poster but please keep an eye on this event for further details as we get closer to the event.
May God bless you all!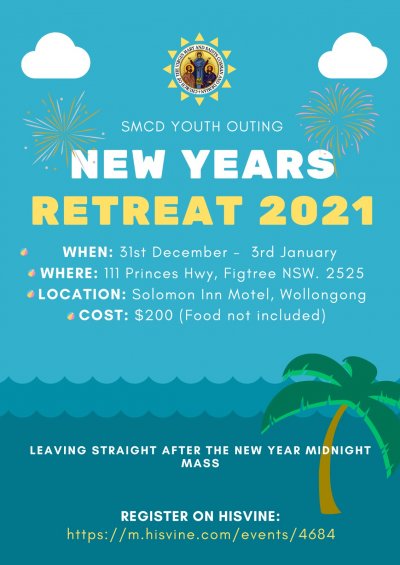 Registration Form - Step 1 of 2
Please login to register for this event.
Login here